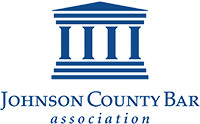 Johnson County Bar Association Annual Awards
Congratulations to the 2022 Award Winners!
Justinian Award - Nick Badgerow
Earl O'Connor Civility Award - Hon. Robert J. Wonnell
Rising Star of the Bar - Tyler Waugh
Advocate Attorney Award - Valerie Moore
Mentorship Award - Erica Perkin
Pro Bono Award - Kansas Legal Services
Community Service Award - Katrina Smeltzer
Don Miller Spirit Award - Danielle Atchison
Liberty Bell Award - Greg Murphy, Trish Reeves, and the Johnson County District Court Judicial Administrative Assistants
Justinian Award for Lifetime Achievement & Professional Excellence
Presented to a JCBA member who has been in practice for longer than 20 years and has exemplified a lifetime of dedication to the profession.  They will have made a significant legal impact in the community, demonstrated exemplary ethical standards, and continuously demonstrated integrity, warmth, friendliness, and camaraderie. 
1975 Howard Payne
1976 Maurice Hubbard
1978 Spencer Gard
1983 Clayton Brenner
1989 Charles Schnider
1990 Hon. Herbert W. Walton
1991 Stuart Mitchelson
1992 Lawrence Wagner
1993 Zohreh Behbehani
1994 Thomas Sullivan
1995 Hon. Earl O'Connor
1996 John Anderson, Jr
1997 Eugene Hackler
1999 Hon. Gerald Rushfeld
2000 John Shamberg
2001 J. Eugene Balloun
2002 George Lowe
2003 Hon. Sam Bruner
2004 James Logan
2005 Keith Martin
2006 Hon. Karen Arnold-Burger
2007 Paul Morrison
2008 Frank Saunders
2009 Hon. Janice Russell
2010 Hon. Stephen Tatum
2011 Richmond Enochs
2012 Richard Bond
2013 Greg Musil
2014 Hon. David Waxse
2015 Timothy O'Brien
2016 Ronald Nelson
2017 Joe Colantuono
2018 Ann McDonald
2019 Hon. Larry McClain
2020 Hon. Kevin Moriarty
2021 Hon. James P. O'Hara
Earl E. O'Connor Civility Award
This award is presented to a member of the Johnson County Bar Association honoring a commitment to civility in the practice of law demonstrated through Professionalism, Honor, Integrity, Preparation and Advocacy.
1999 Hon. James W. Boushka
2000 Wilson E. Speer
2008 Anthony F. Rupp
2009 Robert J. Bjerg
2011 Hon. J. Charles Droege
2013 Hon. Daniel Vokins
2017 Steve Obermeier
2018 Mira Mdivani
2019 Dana Parks
2020 Tim Pickell
2021 Shea Stevens
The Liberty Bell Award is awarded to a non-lawyer for outstanding service in one of these areas: Promoting a better understanding of our Constitution and the Bill of Rights; Encouraging greater respect for law and the Courts; Stimulating a deeper sense of individual responsibility so that citizens recognize their duties as well as their rights; Contributing to the effective functioning of our institutions of government, and; Fostering a better understanding of the rule of law.
1976 Dr. Robert Meneilly
1977 Lewis Lewis
1979 Dr. Stanley Roth
1987 Dr Hugh Speer
1988 Gary Kretchmer
1991 Georgia Nesselrode
1992 Betsi Thurston
1993 Jean Pierce
1994 Marie Lerner-Sexton
1995 Raena Borth
1996 David Kaup
1998 Bill Breyfogle
2000 Don Pipes
2002 Charlotte Crane
2003 Peg Nichols
2004 Fred Krebs
2006 Timothy Mulcahy
2009 Sue Bond
2011 Kaye Cleaver
2013 Ken Thomas
2014 Rise Haneberg
2015 Michael McLain
2017 Annabeth Surbaugh
2018 Janee Hanzlick
2019 Ed Eilert
2020 Wandra Minor
2021 Johnson County District Court Self-Help Center
The Don Miler "Spirit" Award
In 2009, the Johnson County Bar Association Board of Directors created the Don Miller "Spirit" Award. This award is named after Don Miller a longtime friend, colleague and Honorary Member of the Johnson County Bar Association and recognizes his lifetime of spirit that inspired and encouraged others.
The Don Miller "Spirit" Award is given to a current or Honorary Member of the Johnson County Bar Association who maintains a continued optimistic spirit that inspires and encourages others through the example of his or her professional and personal life and demonstrates a warm and friendly relationship that defines a loyal friend and colleague.
2009 Don Miller
2011 Fritz Edmunds, Jr.
2017 James Shetlar
2018 Greg Musil
2019 Tim Elliott (posthumously)
2020 Kelli Breer
Rising Star of the Bar Award
This award recognizes the efforts of a JCBA Bar Young Lawyer who has rendered meritorious service to the legal profession, the community, or JCBA.
2021 Dana P. Tafreshi
The Community Service Award is presented to a JCBA individual member or a law firm that has a commitment to community service, and with charitable purposes that aim to better the lives of those in our community.  This honors the best, most innovative community leaders and charitable programs.
2021 Carly Boothe
This award honors an individual JCBA member, a law firm, government attorney office, corporate law department, or another institution in the legal profession who have demonstrated their commitment to providing legal services for free or at a lower cost.   The award is presented for extraordinary amounts of time, resources, and talents to pro bono efforts.
2021 McDowell, Rice, Smith, & Buchanan
This award is presented to a JCBA Member who has demonstrated their commitment to mentoring younger and/or less experienced attorneys. The award honors someone who has built trust and modeled positive behaviors, understanding that their role is to be dependable, engaged, authentic, and tuned into the needs of the mentee.
2021 Katherine S. Clevenger
Recognizing a JCBA attorney member who made a significant contribution to the public interest within the past year by trying or settling an important precedent-setting case or distinguished themselves as an advocate in the courtroom or on appeal within the past year.
2021 Rekha Sharma-Crawford