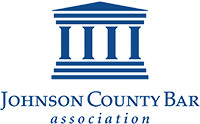 DIVERSITY, EQUITY & INCLUSION STRATEGIC PLAN
Johnson County Bar Association
Statement of Collaboration
Collaboration and the sharing of ideas is fundamental to the Johnson County Bar Association ("Association"). Increasingly, solving society's most pressing issues requires a team-based approach to meet these complex challenges. Recognizing the prominent role attorneys, judges, and other legal professionals play in our society, we will actively focus on diversity, equity, and inclusion. We believe open dialogue, collaboration, and awareness will improve our organization and make us better members of our profession and our community.
The following team of dedicated attorneys and judges collaborated to create this plan:
Chief Judge Karen Arnold-Burger
Kansas Court of Appeals
1995 JCBA President
Kevin Breer
Breer Law Firm, LLC
2020 JCBA President
Robyn Butler
Wallace Saunders
Rick Guinn
Colantuono Guinn Keppler LLC
1994 JCBA President
Angela Gupta
Associates in Dispute Resolution LLC
2022 JCBA President
Judge Krishnan (Chris) Jayaram
Johnson County District Court
Kay McCarthy
Kay L. McCarthy Law & Mediation
Peter Simonson
Arthur J. Gallagher & Co.
2021 JCBA President
Joy Springfield
Kansas Legal Services
Zach Thomas
Law Office of Zach V. Thomas, LLC
Dana Tafreshi
Tafreshi Law, LLC
The Association recognizes that diversity enriches the membership experience and improves the practice of law, the legal profession, and the administration of justice. We are committed to attracting and developing qualified persons of diverse backgrounds to participate in and lead our organization. We strive to create a climate that stimulates success, recognizes our shared values, and encourages contributions from everyone.
Our Association recognizes that we are all better professionals when our collective experiences are seen, heard, and valued.  We look for opportunities to better reflect the diverse demographics of the community we serve.
The Association is the local organization of choice for many members of the legal profession in the metropolitan area. We are dedicated to helping our members achieve their goals and to increasing our community's understanding and appreciation of the legal system.
This vision recognizes that our profession and community are more diverse than our membership, and that we must reconcile the histories of marginalization, underservice, disparate treatment, and injustice that has occurred in order to achieve our goals overall.  We embrace and encourage our members' differences in ability, age, color, ethnicity, gender, gender identity or expression, language, marital status, political affiliation, national origin, race, religion, sexual orientation, socio-economic status, veteran status, and other physical and/or cognitive characteristics that make us unique.
The Association is committed to moving beyond mere talk to meaningful action. We vow to promote equality, equity, and social justice for all people.  As legal professionals, we are in a unique position to lead by example.  Our Association is committed to advancing "equal justice under the law" to all members of our community.
KEY DEI STRATEGIC STANDARDS
Education
Community Service and Outreach (CSO) Section: Sponsor, facilitate, and encourage members to participate in outreach activities and pro bono opportunities that incorporate the vision and commitment of our Strategic Plan.
Mentorship Program: Encourage participation in mentoring program to promote equity and inclusion.
Create and deliver CLE programs focused on issues related to the vision and commitment of this Strategic Plan.
Make implicit bias, diversity, inclusiveness, and anti-racism resources publicly available on the Association's website.
Support law students traditionally underrepresented in the legal profession.
Communication to Membership and Legal Profession
Create a marketing strategy designed to increase diversity and promote inclusion.
Programs
Staffing: The Board of Directors will identify funding to increase staff to support the Association's mission and objectives.
Events: Identify and host events that attract a broader range of membership participation; promote community events that offer networking opportunities for our diverse membership; and seek opportunities to collaborate with other professional associations in the greater Kansas City legal community. 
Breakfast, Luncheon, Bench Bar Conference, and CLE Committees: Identify diverse options for speakers.
Recruit Members that Represent Diverse Communities
1.      Recruit Association members from diverse communities traditionally underrepresented in the legal profession.
2.      Reach out to members from diverse communities to serve in leadership roles in the Association.
3.      Ensure DEI is integrated into all aspects of the Association with strategic initiatives focused on meeting the needs of our diverse community.
4.      Strive to create a membership that is representative and reflective of our community.
Member Retention
1.      Focus retention efforts on members from diverse communities in the legal profession.
2.      Survey members from diverse communities for feedback. 
Collaborate with Bar Associations
1.      Collaborate with other Bar Associations, to create programming and events that promote the vision and commitment of our Strategic Plan. 
2.      Increase diverse participation in the existing mentoring program and look to partner with other Bar Associations to pool mentor-mentee resources.
Partner with Law Firms
1.      Reach out to law firms to encourage diverse membership and participation.
2.      Identify potential issues for mid-sized and small law firms in their own DEI journeys and provide resources and support.
3.      Encourage law firms and other legal agencies to participate in programs designed to increase awareness and understanding of issues relating to racial equality.
 Collaborate with Community and Civic Organizations
1.      Develop and/or attend community service projects and experiential learning activities specific to organizations and historical events consistent with our Strategic Plan.
2.      Identify speakers from diverse communities for Association events through partnerships with other organizations.
The Board of Directors will: 
 Annually review this DEI Strategic Plan with the Board.
The Executive Director will:
Create an Action Plan, which includes each of the Strategic Standards above, along with defined timelines, resources, action steps and who will be involved to.
Collect relevant data, including demographic information, to assist with measuring outcomes.
Set goals for diversifying Association membership that matches the demographics of local law schools. 
Publish information and statistics to Association members regarding progress on meeting the Strategic Standards.